Well done Alex!
Well done Alex!
15 July 2016 (by admin)
Alex and her team win a Bronze Medal in synchronised swimming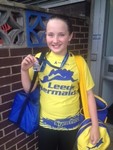 Alex from Year 6 competed in a synchronised swimming competition on Sunday 19th June at Spenborough swimming pool. Her team won a Bronze medal for 3rd place in the North East nationals 2016 competition under 12s for their routine.