Vote for Evie!
Vote for Evie!
29 July 2018 (by Timothy POOL (TPool))
Please support Evie's application to become the 2018 Leeds Children's Lord Mayor.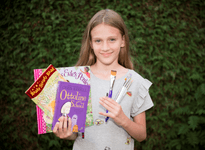 Evie in Y6 recently submitted a brilliant manifesto to become Westerton's candidate for the Leeds Children's Lord Mayor competition. Her idea, to create pop-up children's libraries across Leeds at no cost to the council, was then selected from over 50 schools across Leeds to be in the final top 12. The overall winner will be announced on 27th September.
We would love as many children from Westerton and across Morley to be involved in the voting process and support Evie (and one other good idea) from the final 12. All that is needed is a couple of minutes to vote online with a parent's email address and a couple of clicks!
Click on the link below to submit your vote. Good luck Evie!
Share this: