Learning to Learn!
At Westerton we aim to produce children who are confident, life-long learners. We know, through extensive research, that intelligence is not fixed at birth and that children (and adults!) have the capacity to learn throughout their lives and, 'grow their brains.' This is not as far-fetched as it sounds! Research shows, that as we learn something new, our brains create new neural pathways and the 'learning' parts of our brain strengthen and the learning becomes easier. It is critical that children understand this and know exactly how to become a successful learner.
Which mindset are you?
Have a look at the statements below. Which mindset best describes yourself?

A fixed mindset is the result of a continual focus on ability rather than on achievement and effort. People with a fixed mindset avoid challenging tasks for fear of failure, thus missing many valuable learning opportunities.
At Westerton we encourage children to have growth mindsets (referred to as 'green brains' with the younger children). We can develop our growth mindsets by using our, 'Learning Muscles.'
By using our learning muscles, everyone can grow their brains and become successful learners. At Westerton we know there are things we can't do …….YET! However, we know how to learn well and we relish a challenge.
In lessons, teachers talk to the children about which learning muscles to use to complete a task. All of the children in school have had a talk about use of their learning muscles and a competition has been held to draw a character to represent one of the eight muscles. Each year group took one of the learning muscles, and School Council chose the winners!
Well done to:
Nursery - Terry "Have a try" Triceratops
Reception - Determined Donkey
Year 1 - Use Your Imagination - Elly Bat by Simar J
Year 2 - CoCo the Cooperative Chameleon by Tamzin G
Year 3 - Curious George by Sophie S
Year 4 - Concentrate like Curly Caterpillar by Caitlin M
Year 5 - Keep Improving like Hector Hedgehog by Elora P
Year 6 - Enjoy Learning Like Edgar Emu by Grace H
Westerton Primary School's Learning Muscles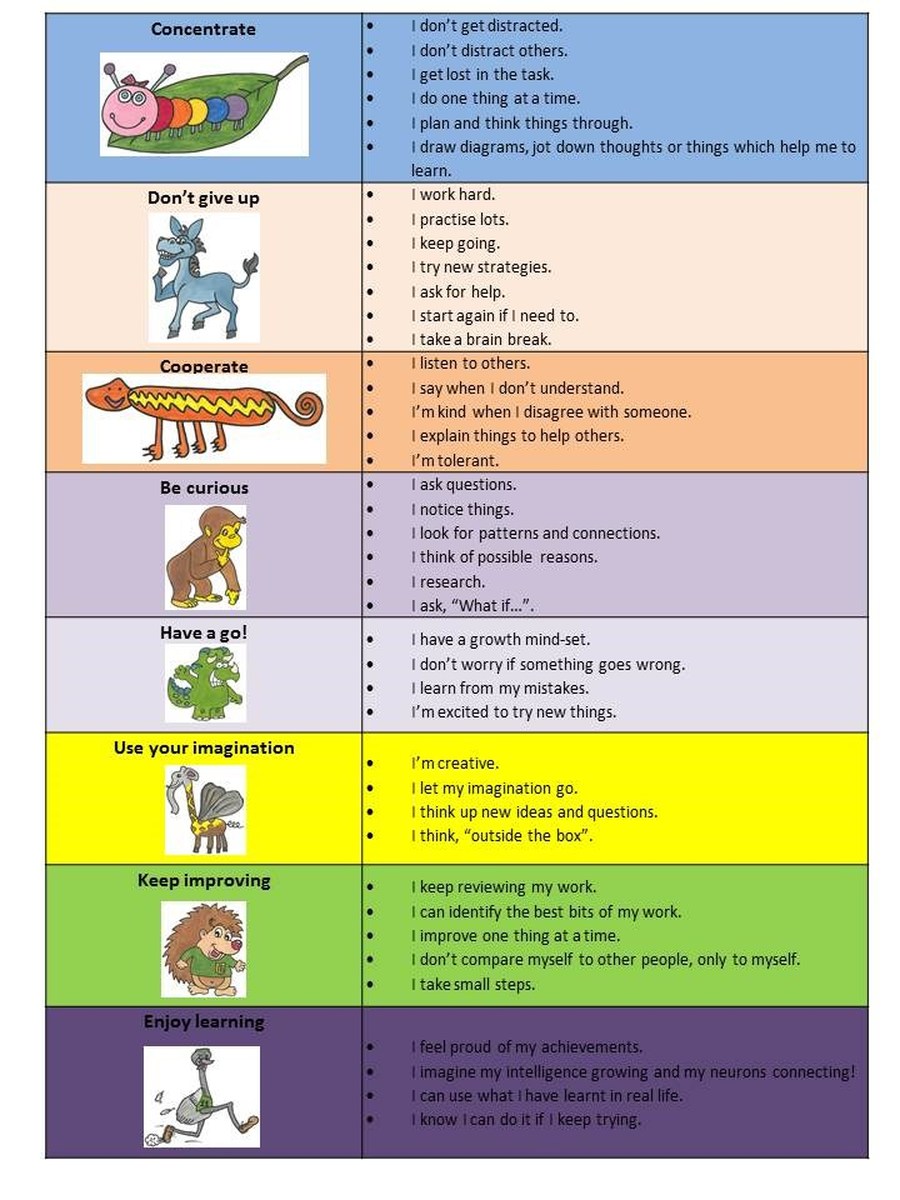 School Council did an assembly to launch our Learning Muscle characters. The presentation included a PowerPoint presentation of the Learning Muscle winning designs and a YouTube clip "You can learn anything" and the following script:
Councillor A: At Westerton, we try to have a growth mind-set or a 'green brain'. We try to develop this growth mind-set by using our 'Learning Muscles'. Much like the muscles in our arms or legs, our learning muscles grow and work better through repeated use and practise.
Councillor B: By using our learning muscles, everyone can grow their brains and become successful learners. We know there are things we can't do…YET! However, we know how to learn well and we relish a challenge.
Councillor C: A few months ago, each year group were allocated a Learning muscle. Then we held a competition to draw a character to represent the learning muscles.
Councillor D: The School Council had the privilege of looking through all the entries and choosing a winner from each year group. Well done to everyone who entered – we were very impressed by all the entries!
Councillor E: We will briefly introduce you to each of the winning characters and how they represent the learning muscle. We will clap the winners all together at the end.
Councillor F: First we have Terry the 'Have a Try' Triceratops designed by Nursery. Hello Terry, can you tell us a bit about yourself.
Terry: Hello. I'm very excited to try new things and give new opportunities a go. I know that when I try new things, I might mistakes at first but that's ok.
Councillor F: Next Reception designed Determined Donkey. Hello Donkey.
Donkey: Hello, I'm here to remind you to not give up and stay determined. When I'm learning I know that I need to work hard and practise a lot. I ask my other donkey friends to help me sometimes but I always keep going!
Councillor G: Thank you Donkey. Our third learning muscle was designed by Simar J in Year 1. Hello Elly-Bat. What Learning muscle are you?
Elly-Bat: Hello, my name is Elly-Bat and I'm the learning muscle for using your imagination. I'm part elephant, part giraffe and part bat – hence my imaginative name! I try to be creative and look for new ideas and ways of thinking.
Councillor G: Our next learning muscle was designed by Tazmin G in Year 2. He's called Coco the chameleon. Tell us about yourself Coco.
Coco: Hi, my top-tip for learning is to be able to cooperate. This means listening to others carefully and sharing ideas. I like to work with my friend George here.
Councillor H: Hi George. What learning muscle are you?
George: Hi, my name is Curious George who was designed by Sophie S in Year 3. I like to ask questions all the time. I look for patterns and try to research answers to the questions I'm asking.
Councillor G: Next we have Curly the caterpillar, designed by Caitlin M in Year 4
Curly: Hello, I represent the concentration learning muscle. When I'm on the look-out for fresh, juicy leaves, I have to concentrate hard. I ignore all the other distractions around me and get lost in the task. That is what you should do when you're learning!
Councillor H: Thank you Curly. Our seventh learning muscle is Hector the Hedgehog who was designed by Elora P in Year 5. Hi Hector.
Hector: Hi, I'm here to tell you to keep improving like me, Hector the Hedgehog. I always look through my work carefully and try to improve one small thing at a time. I don't compare my work to any of my other hedgehog friends because that won't help me to improve. Instead, I look back at my own work and try to be better than last time.
Councillor A: Finally, our learning muscle from Grace H in Year 6 is Edgar the Emu.
Edgar: Hi, I've enjoyed listening to all the other learning muscles because that's what I'm all about – enjoying learning. I'm feel proud of my achievements and I enjoy working hard because I know this leads to successful learning. Even though my head is only small, I can feel my brain and my intelligence growing by the day with the help of all my other learning muscle friends.
Councillor B: Thank you learning muscles and thank you to all of the winners of the competition. If your entry was selected today then please stand up. Well done everyone! (Clap)
Councillor C: Thank you for listening today. Try and use your learning muscles in lots of different situations. Remember, the more you practise, the bigger your muscles and your brain will get! Let's watch this short video to remind ourselves of this.