Leeds Children's Lord Mayor entries
Leeds Children's Lord Mayor entries
21 May 2019 (by Timothy POOL (TPool))
Are you in Y5? Do you want to make a difference to all children across Leeds? Click above for further information about how to enter the annual Leeds Children's Lord Mayor competition.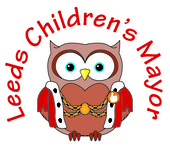 Y5 children will soon be receiving information about the Leeds Children's Lord Mayor competition. Last year, our super-talented Evie made it through to the final 16 with her idea for free children's libraries within the community. Information including entry forms and guidance can be found in the link below: Alternatively, you can download a copy of the 2019 application pack.
The final date for submitting school entries to Mr Pool will be Friday 21st June where one winner will be selected to go forward as Westerton's nominee. Good luck with your application!