Early Years Foundation Stage (EYFS)
We are pleased to welcome you to our EYFS page. We are a large team and provide quality Early Years Education to 90 Reception (F2) Pupils and 104 Nursery (F1) Pupils (52 Place Area Nursery). Our Nursery offers flexible sessions and parents can choose from AM, PM, 1st Half (Monday all day, Tuesday all day, Wednesday AM) or 2nd Half (Wednesday PM, Thursday all day, Friday all day).
Our EYFS Governor (who sits on the Teaching and Learning committee) is Stephanie Puissegur. We also have two Year Group Governors: Susan Dawson is Nursery's Governor and Stephanie Puissegur is Reception's Governor.
A copy of our Admissions Policy and Specific EYFS policy can be found in our Policy Section.
For specific EYFS information, please do not hesitate to contact the EYFS Phase Leader, Mrs. A Salter. For lots of useful information about the EYFS Framework and documents, parents are encouraged to visit the Foundation Years Website. School has also produced a quick guide to the EYFS which can be viewed here.
We aim to work in partnership with Parent/s and Carer/s. We run a selection of parental workshops throughout the year. You can find copies of the presentations delivered further down this page alongside a guide to the EYFS provision.
Our Reception results from 2012-13, 2013-14 and 2014-15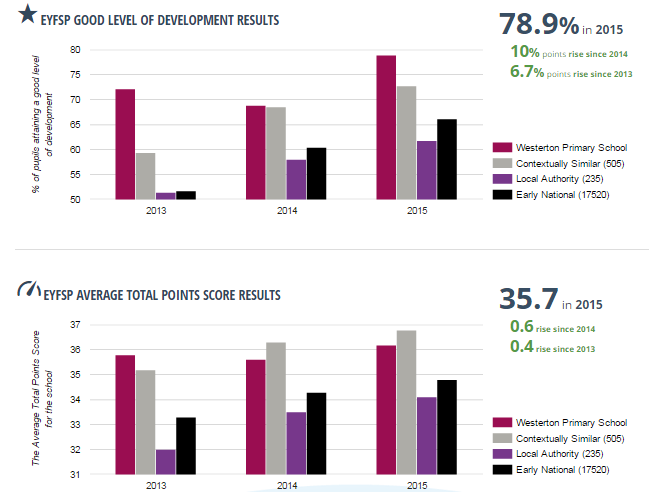 Areas of our provision we are currently working to improve:
Each year, we carefully review our EYFS data and as a team, develop our provision and practice to improve outcomes for all pupils. This year we are working hard to:


1. Develop a 'Communication Friendly' approach across the entire phase to raise pupils' basic speaking and listening skills. Over the last few years, we have noticed a significant difference in the speaking, understanding, comprehension and language processing skill that our pupils have on entry to the setting; as spoken language is the main way that children in the EYFS communicate their understanding, this has a significant impact on pupils' work across the curriculum. This year, we have narrowed our initial focus to target and raise basic skills across the Prime areas of Learning to ensure that pupils have the necessary basic skills to access the wider curriculum.

2. Further develop feedback to better enable pupil progress. Reception staff are currently working to develop systems for providing appropriate and relevant feedback to pupils to enable children to make rapid and sustained progress.
3. Ensure that all pupils make at least expected progress and aim for better than expected progress. Staff carefully track those pupils who are members of vulnerable groups and ensure that timely and well planned interventions are put into place. This is a process closely managed and supported by the EYFS Phase Leader.
4. Build on recent Physical Training (linked to brain development) and implement strategies to enable pupils with less developed physical skills to access more academic aspects of the curriculum; such as writing.
Parent Workshops